1 user browsing this thread: (0 members, and 1 guest). 1 Guest(s)

02-08-2010, 03:56 PM
gnepig
"Get off my LAWN"


Posts: 248
Joined: Oct 2009
Reputation: 3
Tacticool!
Yeah Buddy! This one looks like it's from Red Green Customs: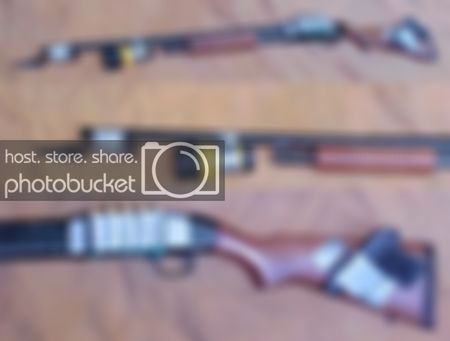 02-08-2010, 07:48 PM
Delbert
Muzzle Blast


Posts: 425
Joined: Oct 2009
Reputation: 3
RE: Tacticool!
Looks like some ole boy has cabin fever and all he had was a drawer full of stuff, a gun, and some ductape. LOL
There's always somebody that has a better idea on how to accessorize their weapon. Thanks for a good laugh. We need this as a sticky--on how to NOT CUSTOMIZE your weapon for the better.
Del
02-09-2010, 07:38 PM
(This post was last modified: 02-09-2010 07:38 PM by alleydude.)
alleydude
Administrator


Posts: 573
Joined: Sep 2009
Reputation: 3
RE: Tacticool!
I've spent yesterday and today trying to come up with a witty comment...
I got nuthin'.
---
Ken

Firearms Price Guide...For What It's Worth.
Join Us On Facebook!
Check Out Our Blog!
03-01-2011, 11:50 PM
CMIKES
Junior Member


Posts: 20
Joined: Oct 2009
Reputation: 0
RE: Tacticool!
They sell duct tape in all sorts of colors, something other than the standard "Hillbilly Chrome" would probably have worked better.

---
Powered By
MyBB
, © 2002-2015
MyBB Group
.